Get Customized Design
With years of experiences, we're expert in icon designs, font, illustration, pattern, or anything you need! Our Design Warriors are waiting to serve you!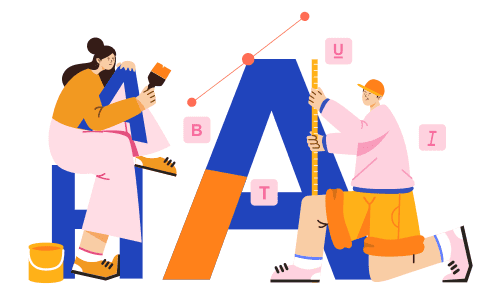 Our Design Process
With a mixture of understanding the problem, endless imaginations, professionalism, and our heart-warming teamworks, your requests are our priorities. We pour all of our efforts to fulfill your needs! Here are the proces of how we create.

COMMUNICATE YOUR NEEDS
Write down everything you need using our contact form, you can be precise here to help us helping you finish your project. If you have references, or examples that you'd like your design to be, don't hesitate to inform us!

DESIGNING
After we understand your needs and your payment completed, we're trying to solve and tacke all the problems. We'll create high-quality designs only for you with amount of time we've discussed before. Chill and let us do the magic!

WE PRESENT THE SOLUTION
When all the graphic assets we designed are done, we present to you to look for. If you found some of them don't meet your expectations, revisions are welcomed. Just tell us to perfecting the graphic assets just for you.

YOUR DESIGNS ARE READY!
We will send or upload the design to you once we're completed and we'll make sure that you satisfied with the results! Then voila, your designs are ready to rock the boat!
Pricing
We're providing you various packages to make you easier to choose. We also want to make sure that we're all as transparent as possible! The prices that we propose to you are as clear as the blue sky, and there's no hidden fee so you'll be worry-free!
1 concept provided
2 times revisions
AI, EPS, JPG only
2 concept provided
4 times revisions
All files format
Bundles
Product Mockup
3 concept provided
6 times revisions
All files format
Bundles
Product Mockup
Premium Resource